NASHVILLE – Broadcast Music, Inc., one of the nations leading music rights organizations, recognized the top Christian songwriters and publishers at their annual awards dinner on Tuesday evening at their offices near Nashville's famed Music Row. The star-studded, invitation-only event included top artists such as Steven Curtis Chapman, Building 429, Matt Maher and Brandon Heath.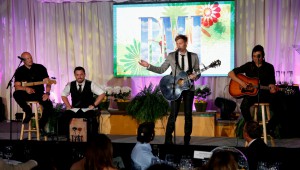 Jody Williams, BMI's vice president of Writer/Publisher Relations, told The Christian Post during the pre-event reception how important Christian music is to the industry and its fans.
"We're in the business of making sure songwriters and artists get paid when their songs are played," said Williams. "But tonight we are going to honor the top 25 songs in Christian music in five different genres that make up Christian music. What's special about this evening is we get to put the songwriters on a pedestal and make sure they are honored. Sometimes the artist is the songwriter and that's even extra special."
Williams said he believes Christian music has a bright future, mainly due to its diversity in terms of being inspiration to so many people. More importantly, Christian music tends not to experience the highs and low that others types of music often see.
"There [are] all types of great music coming out of Nashville but Christian music is leading the way here and we're proud to be a part of its success," explained Williams.
Building 429's Jason Roy brought home song of the year honors with "Where I Belong," (Harvey Publishing and Sony ATV Tree).
Read more at http://www.christianpost.com/news/bmi-showcases-top-songwriters-at-annual-christian-music-awards-dinner-98527/#i81MfSolUTGKdgOW.99
Share on Facebook